This is a multipage post. You are on page two of South Korea's New President Adopts Meat Farm Rescue Dog as "First Dog!"   You can access page one here.
It has been two years since Tory was rescued from a dog meat farm, but because he's a black dog, he's been unable to find a furever home because South Korea has a prejudice against black dogs.
The President states the adoption shows "that both humans and animals should be free from prejudice and discrimination."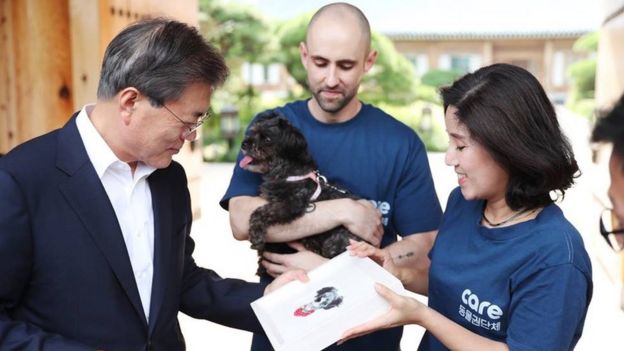 And while the adoption is seen as supporting animal rights in South Korea, and seen as sending a strong message against the dog meat trade, President Moon Jae-in, has yet to ban the trade, preferring to "phase it out."
What do you think of all this?
Image Credits: Facebook
Feature Image: BBC via CARE
Read More: BBC
Back to page one.
PLEASE SHARE THIS STORY WITH YOUR DOG LOVING FRIENDS AND FAMILY AND BE SURE TO LIKE OUR FACEBOOK PAGE. Share
Follow us on Facebook
More News Stories Here!
Save